The 97th Regimental String Band
- Music of the 1800's
and Civil War Era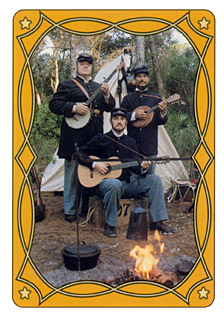 The 97th Regimental String Band recreates an actual string band of the Civil War Era singing a wide variety of traditional American songs in authentic, "living history" style.
The 97th Regimental String Band is a eudaemonious concatenation of jocular harmonists that provides both vocal and instrumental music of the 1800's. The 97th has performed throughout the United States at many of the major theme parks, festivals, civil war reenactments and special concerts.
THE 97TH REGIMENTAL STRING
BAND SETS MUSIC BACK
A HUNDRED YEARS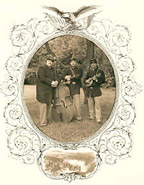 HISTORY - not from the text book, but stories and songs about the real people and events that shaped America's history: soldiers and sailors, lovers and liars, heroes and villains, adventurers and cowards, scamps and scoundrels.VARIETY-Here is all the music that helped people deal with events that changed their lives, heart- beat music, filled with every kind of emotion: patriotic aires, foot stomping dances, sentimental ballads, spirited comedy songs, jaunty Irish folk tunes, rollicking sea chanteys.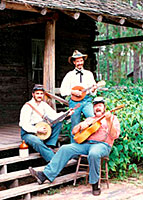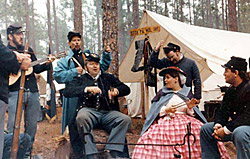 FUN - the way Americans have always liked it-not just sitting and listening, but joining in the singing, clapping, laughing, dancing, and general merriment of an exciting, high-spirited performance of old- time music