The Music


The 97th Regimental String Band
A MUSICAL
TIME MACHINE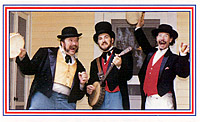 The 97th Regimental String Band recreates an actual string band of the Civil War Era singing a wide variety of traditional American songs in authentic, "living history" style.
Audiences at fairs, festivals, conventions, concerts and schools experience a "Musical Time Machine," through which young and old enjoy the same lively minstrel show that brought entertainment to soldiers and civilians before radio and television-shows with spirit, sentimentality, and exuberance- and very strong on audience participation.
These are popular songs of the 19th century the old-time musical heritage that became today's bluegrass, folk, and country-western music that is still a familiar part of Americana.
The Civil War has always been a national fascination, and the 97th has been presenting its songs with flair and fun for over a decade, playing and singing just as they would have sounded 130 years ago rich vocal harmonies accompanied by guitar, fiddle, banjo, mandolin, harmonica, bass fiddle, bones, and tambourine.

THE 97TH REGIMENTAL STRING
BAND SETS MUSIC BACK
A HUNDRED YEARS
---
The 97th is also available for performances. Contact us at This email address is being protected from spambots. You need JavaScript enabled to view it. or by calling
727-391-4565