Example of Section Blog layout (FAQ section)
Details

Hits: 5094

5094
Vol V - "RAISE A RUCKUS"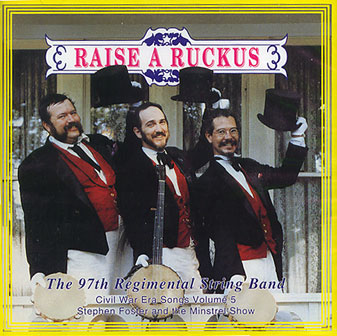 Vol V
"RAISE A RUCKUS"
Songs of the Civil War
"RAISE A RUCKUS" Volume 5, copyright 1991, 45 minutes.

A nation weary of war turned to the new, uniquely American form of entertainment, the minstrel show, to find escape. Crude jokes, slapstick, comic plays would evolve Into and eventually be replaced by Vaudeville. From the first performance to the last obscure minstrel, music was the glue that held everything together. Stephen Collins Foster was one of the premiere songwriters of the Civil War era as demonstrated by ten of the songs in this recording. Hs tunes were given the ultimate honor of being parodied time and again.

Lubly Fan
Ring the Banjo
Old Folks At Home
Camptown Races
Hard Times Conic Again No More
If You've Only Got a Moustache
Blue-Tail Fly
Oh, Susanna
Old Dog Tray
Beautiful Dreamer
The Glendy Burk
My Old Kentucky Home
Raise a Ruckus